IPS ENGINES

Volvo Penta's Inboard Performance System (IPS) is still a revolution. Thousands of applications with the distinctive, forward-facing, twin counter-rotating propellers have been installed on hundreds of boat models worldwide.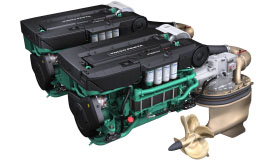 With its individually steerable pods under the hull, it's superior to inboard shafts in every vital aspect – handling, onboard comfort and performance. Volvo Penta IPS comes as a complete package –one supplier, for twin, triple or quadruple diesel installations – making forward-facing efficiency available for 30-100ft yachts.
Below are the specifications for Volvo Penta IPS.The broad range of alternatives, along. with the possibility of twin, triple and quadruple installations, makes it suitable for planing boats up to 30 meter.
Engines and complete drive systems for marine professionals
• Extensive product range developed for a broad range of marine applications.
• 3–16 litre diesel engines with drive, control and monitoring systems to match.
• Type-approved engines tested and ready for installation.
• Customized parts kits and efficient parts supply through the extensive network of qualified and well-equipped dealers.
Prepared for future emission standards
Our focus in product development and renewal is on achieving even greater reliability,performance and fuel efficiency. Continuous progress in environmental performance ensure that our power range will meet the emission standards introduced in the future.
| | | | | | | | |
| --- | --- | --- | --- | --- | --- | --- | --- |
| Engines | Rating 3 Propshaft kW / hp | Rating 3 Crankshaft kW / hp | Rating 4 Propshaft kW / hp | Rating 4 Crankshaft kW / hp | Rated rpm | Number of cylinders | Displacement litres / cui |
| IPS400MC |   |   | 217 / 295 | 228 / 310 | 3500 | 6 | 5.5 / 336 |
| IPS450 |   |   | 230 / 314 | 243 / 330 | 3500 | 6 | 5.5 / 336 |
| IPS800 |   |   | 417 / 567 | 441 / 600 | 2300 | 6 | 10.8 / 661 |
| IPS 900 | 485 / 659 | 515 / 700 |   |   | 2250 | 6 | 12.8 (780) |
| IPS1050 |   |   | 556 / 756 | 588 / 800 | 2300 | 6 | 12.8 / 780 |