IPS SYSTEM DISIEL ENGINES

Unique design – unique benefits.
Thanks to its unique design, Volvo Penta IPS offers a number of distinctive benefits.
FORWARD-FACING EFFICIENCY

The twin, counter-rotating propellers face forward and work in undisturbed water. The propeller thrust is parallel with the hull. All power drives the boat forward.

VIRTUALLY NO FUMES

All exhaust fumes are emitted through the pods, into the prop wash and carried well behind the boat for improved onboard comfort.

CAVITATION-FREE

The propellers are positioned well under the hull to eliminate air intrusion and cavitation, even in sharp turns and during full acceleration.
MINIMAL HUB FOR MAXIMAL BLADE AREA
In Volvo Penta IPS, the exhaust doesn't go through the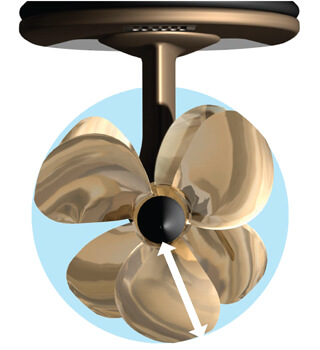 propeller hub. The minimal hub diameter results in a larger active blade area and a significantly better grip in the water.
35% HIGHER EFFICIENCY
The forward-facing solution and an efficient flat-surface planing hull give around 35% higher efficiency at fast cruising than inboard shafts.
DIESEL INBOARD ENGINE RANGE
Powerful acceleration, comfortable cruising speed and an extended range are the hallmarks of Volvo Penta Inboard engines, getting you where you want to go in total comfort. Worry-free ownership with high levels of safety, service and value are also included as standard in every Volvo Penta engine. Most of the Volvo Penta diesel inboard engines comply with the most stringent environmental demands: the US EPA Tier 3 and EU RCD Stage 2. The particulate emissions are 40% lower and the NOx and hydrocarbon 20% lower compared with previous levels.
| | | | | | |
| --- | --- | --- | --- | --- | --- |
| Engines | Propshaft kW/hp | Crankshaft kW/hp | Rated rpm | Number of cylinders | Displacement litres/cui |
| IPS350 | 182 / 248 | 191 / 260 | 3500 | 4 | 3.7 / 224 |
| IPS400 | 212 / 289 | 221 / 300 | 3500 | 4 | 3.7 / 224 |
| IPS450 | 230 / 314 | 243 / 330 | 3500 | 6 | 5.5 / 336 |
| IPS500 | 259 / 352 | 272 / 370 | 3500 | 6 | 5.5 / 336 |
| IPS600 | 307 / 418 | 320 / 435 | 3500 | 6 | 5.5 / 336 |
| D8-IPS700 | 384 / 523 | 405 / 550 | 2900 | 6 | 7.7 / 440 |
| D8-IPS800 | 419 / 570 | 441 / 600 | 3000 | 6 | 7.7 / 440 |
| IPS800 | 435 / 591 | 459 / 625 | 2400 | 6 | 10.8 / 661 |
| IPS950 | 504 / 685 | 533 / 725 | 2500 | 6 | 10.8 / 661 |
| IPS1050 | 556 / 756 | 588 / 800 | 2300 | 6 | 12.8 / 780 |
| IPS1200 | 626 / 850 | 662 / 900 | 2300 | 6 | 12.8 / 780 |